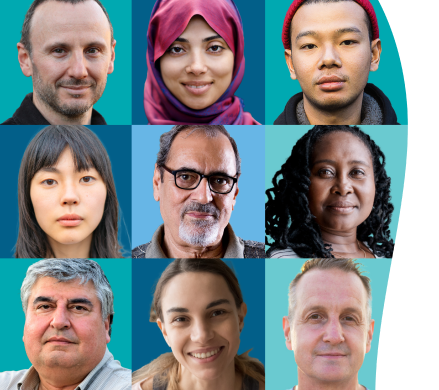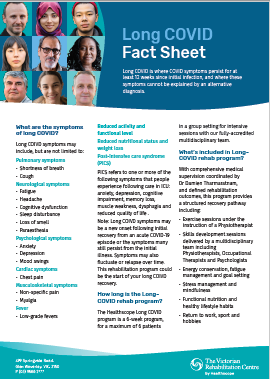 DR SARAH ABRAHAMSON
Long COVID rehabilitation program
Long COVID can have a significant effect on people's quality of life, impacting 10-20% of COVID-19 patients regardless of infection severity.
Long COVID (or post-COVID-19 syndrome) is the presence of COVID-19 symptoms for more than 12 weeks following COVID-19 infection that cannot be explained by an alternative diagnosis.
This program could be the start of your Long COVID recovery.
Common symptoms include (but not limited to):
shortness of breath
fatigue
cognitive impairment ('brain fog')
dizziness
mobility impairment
weight loss
joint and muscle pain
psychological symptoms of depression, anxiety and PTSD.
The Victorian Rehabilitation Centre have developed a fully-supervised reconditioning outpatient program for patients suffering from Long COVID, designed to support their graded return to activity and educate on the management of common symptoms.
Our supervised evidence based patient recovery program includes:
Exercise sessions with our Physiotherapists
Energy conservation, fatigue management and goal setting with our Occupational Therapists
Stress management and mindfulness sessions with our Psychologists
Nutrition and lifestyle consultations to support their return to work, sport and hobbies.
You will receive preliminary medical screening to determine suitability and establish a baseline to build on throughout the program. This program is evaluated based on routine outcome measure collection, including:
6-minute walk test,
Fatigue Scale for Motor and Cognitive Function, and
quality of life and depression anxiety and stress questionnaires.
Progress within program and outcome measure achievements will be summarised and reported to referrers on program completion.
If you experience any of these symptoms download our long Covid fact sheet to discuss with your GP.
This program could be the start of your Long COVID recovery.